Wide Width Blown Film Plant For LDPE / HDPE ...
We manufacture high grade Blown Film Plants that are applicable in diverse industries like plastic, product packaging and electronics using latest technologies. Blown Film Plants are used for various purposes during Plastics Extrusion and Plastics Recycling process.

With the deviating demand of the clients these are offered in wide range at market leading prices. Our esteemed clients can avail from us high-performing Blown Film Plants as per their specific requirement. We are counted as prominent manufacturers of Compact Film Plants across worldwide.

Our Blown Film Plants is also known as Plastics Film Plant, Plastics Blown Film Plant etc. Blown Films are widely used for general purpose as well as for making Carry Bag / Shopping Bag / D Cut Bag / Grocery Bag / Trash Bag and Film for Liners.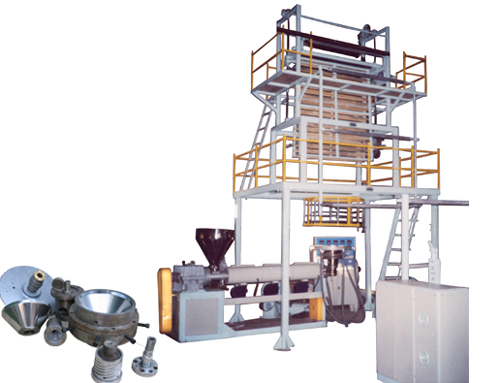 Mono Layer Film Plants

Models

TH-50
TH-65
TH-75
TH-90

Screw Dia.mm

50
65
75
90

Main Motor KW

9.3
15
22.4
37.0

Die type

Spiral
Spiral
Spiral
Spiral

Lay flat witdh

700
950
1350
1850

*Max.Output

32-37
50-60
80-90
130-150

Nip Roller

800
1100
1500
2000

Winder Type

Surface
Centre
Centre
Centre

Connected Load Kw

18.00
28.00
41.5
64.00
* Spiral Die head with Rotating die, Maintenance Free slip-ring & brush less Also available.